WISE WITHIN
The Houston WISE chapter is proud to support WISE Within, the national signature program of WISE. WISE Within is a mentoring program with a proven track record of providing valuable career resources. The relationships formed in this program create a unique opportunity to accelerate professional development by connecting women through facilitated group sessions, personal one-to-one mentoring and national online resources.
---
WISE SIGNATURE EVENTS

The Roundtable event is open to all WISE members and serves as a kick-off to the annual application process for WISE Within.  Mentees will visit with several Mentors about a wide array of topics.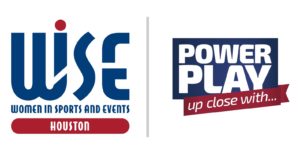 Panel featuring executive level women from the same industry or sections of an industry tied to the business of sports or events.  All panelists and moderators are women. In 2016, we hosted our first Power Play at City Hall featuring Trailblazers in Houston Sports and in 2017, we will share breakfast at the new Partnership Tower with leading women from the oil and gas industry.  Learn more here.

Designed to provide WISE members with resources and tools for better fiscal management and understanding of overall business operations. This year we welcome nationally recognized Jean Chatzky, financial editor for NBC's Today Show, to Houston as our featured speaker. Learn more and register here. 
We celebrate and honor women who have achieved leadership roles in sports business, serve as role models and mentors for other women, and have had a significant impact on the Houston community with the WOI award. We will also recognize our Best Networker, Best Committee Member and Partner of the Year. 
---
MEMBER MEET-UPS
Meet WISE Members at our monthly meet-up held the first Wednesday of every month from 6:00 PM-8:00 PM in Vinoteca at the Four Seasons downtown. Bring a potential member, friend or colleague to learn more about WISE Houston. 
---
WISE LOVES HOUSTON SPORTS
2017 WISE Outings
June 23rd: Volunteer at Harris County Houston Sports Authority's 
Olympic Day (noon – 1:00 PM)

***WISE Houston would like for you to keep in mind that all events that request that you RSVP include some expenses to the organization based on the RSVP count.  Please email info@wisehou.org if you have RSVP'd for an event, but will not be able to attend the event.***