Signature Events
Speed Mentoring Roundtable: January 23rd, 2018 6:00 PM – 8:30 PM
The Roundtable event is open to all WISE members and serves as a kick-off to the annual application process for WISE Within. Mentees will visit with several Mentors about a wide array of topics. Read more about this event in our recap. 

Financial Fitness: February 21st, 2018 11:30 AM – 1:30 PM
This event is designed to provide WISE members with resources and tools for better fiscal management and understanding of overall business operations. Our panelists have covered key topics such as salary negotiations, equitable pay and personal financial management. This year we welcome nationally recognized Jean Chatzky, the financial editor for NBC's Today Show, to Houston as our featured luncheon speaker on February 21st at the new Amegy Tower.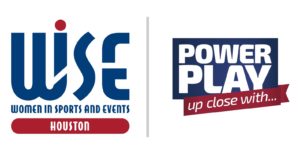 Power Play: May 10th, 2018 8:00 AM – 9:30 AM
Panel featuring executive level women from the same industry or sections of an industry tied to the business of sports or events.  All panelists and moderators are women. In 2016, we hosted our first Power Play at City Hall featuring Trailblazers in Houston Sports and in 2017, we heard from leading women in the oil and gas industry. In 2018, the event will be a breakfast on May 10th with the women executives in the medical community to share their experiences with sports and events.
Women of Inspiration Celebration: December 4th, 2018 6:00 PM – 8:00 PM
We honor women who have achieved leadership roles in sports business, serve as role models and mentors for other women, and have had a significant impact on the Houston community with the Women of Inspiration award. We also celebrate our Networker of the Year, Committee Member of the Year, and Partner of the Year. Past recipients include Sallie Sargent, Anita Dimartino, Janis Burke, Gina Gaston & Pam Gardner.
---
Member Meet-Ups
Meet WISE Members at our monthly meet-up held the first Wednesday of every month from 6:00 PM-8:00 PM in Vinoteca at the Four Seasons downtown. Bring a potential member, friend or colleague to learn more about WISE Houston.
"I love to attend the monthly happy hours because it's a great way to really connect and build relationships with other members. I  personally have been able to get to know the other members on a more personal level and I believe it's due to the laid back atmosphere." – Kerri Barber, Member since 2016
---
2018 Partner Hosted Events
March 19th: Lucky Strike Bowling
May 5th: Derby Day at Sam Houston Race Park
June 23rd: Volunteer at HCHSA'

s Olympic Day

June/July TBD: Dash Night at BBVA Compass Stadium
August 15th: Night at the Ballpark with the Houston Astros hosted by HCHSA

September 14th: Service Day
October TBD: Rockets Red Night at Toyota Center
November TBD: Texans Road Game Tailgate
Check out photos from our past events!
***WISE Houston would like for you to keep in mind that all events that request that you RSVP include some expenses to the organization based on the RSVP count.  Please email info@wisehou.org if you have RSVP'd for an event, but will not be able to attend the event.***